Download Minami Ward 60th anniversary manga booklets (PDF format)
Minami Ward became a ward independent from Shimogyo Ward in 1955 and celebrated the 60th anniversary of its establishment on September 1, 2015.
To mark the anniversary year, communicate the appeal of Minami Ward to residents and visitors, and as part of its commemorative efforts, the Ward published a number of manga booklets that anyone would be able read.
The summary of each of the booklets is provided on this page.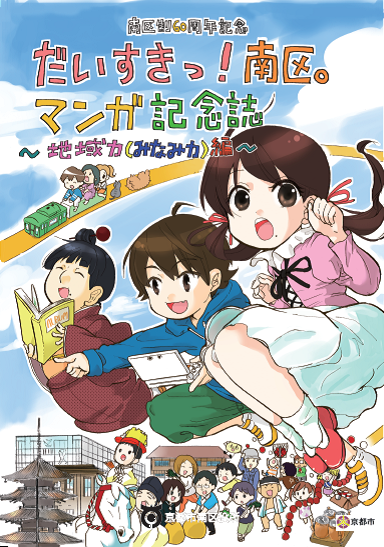 Regional Power (Minami Power)
Manufacturers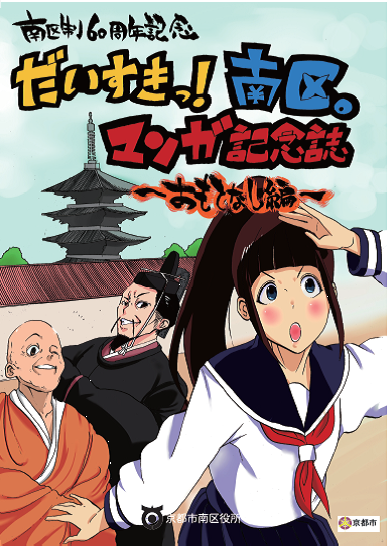 Hospitality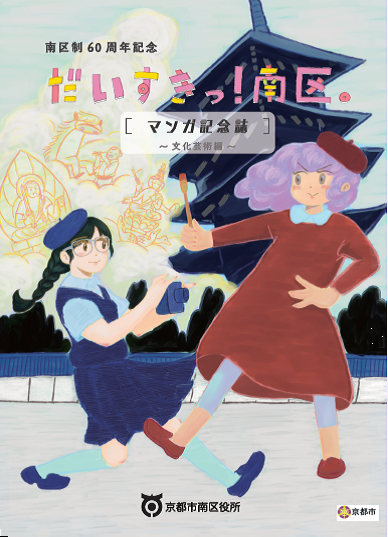 Culture and Art
Community Power (Minami Power)
A girl who was not very interested in Minami Ward gradually develops an interest in the ward through conversations with her grandmother about the history, culture, and local efforts of Minami Ward.
Later, the girl participates in a local event and learns about the importance of local bonds, which leads to her fondness for Minami Ward.
* Japanese only
Manufacturers
  Two university students are talking while driving a rental car when a fairy who is knowledgeable about manufacturers in Minami Ward appears and introduces them to Minami Ward-based companies associated with their conversation.
The two learn that some familiar, everyday products are made by manufacturers in Minami Ward.
* Japanese only
Hospitality
The protagonist of this manga time-travels to the Heian period in a dream, in which influential figures of the time introduce the To-ji and Sai-ji temples, as well as Rajomon which sits between them, among other structures.
Upon learning that those locations have been assimilated into people's daily lives up to this date as essential places, she realizes that Minami Ward has a long history that has cultivated its welcoming atmosphere.
* Japanese only
Culture and Art
A high school student who is a member of the art club encounters an alien that has come to find Earthly art. The two learn about art in Minami Ward, through the To-ji temple and the Rokusai Nenbutsu dance at the Kisshoin Tenmangu Shrine.
"AR Sai-ji/Rajomon" Pamphlet
This pamphlet explains how to use the "AR Sai-ji/Rajomon" app.
*Japanese, English, and Chinese versions are available.